Anca's
Amara had been a yoga practitioner for several years when she obtained her 300 hours Teaching Certification from Seema Sondhi's Yoga studio in New Delhi. She subsequently passed a 100 hours specialization in Yin Yoga. She now has one year of active teaching experience. If she could define yoga in one word, it would be "BLISS". She seeks to feel and share the blissful state of feeling whole in one's body, that makes us admire the beauty and silence of the world. An enthusiastic advocate for yoga, she believes that everyone should try yoga at least once, that yoga has something to give to everyone, be it movement, stillness, vigorous workout, silent meditation, better breathing, better alignment or clarity of mind. Adapting her class to the needs of her students, her style flows between hatha, vinyasa and yin, with a special importance given to relaxation and pranayama. Because Amara believes yoga is for everyone, her class can serve different purposes : a light exploration of flexibility and physical strength, meditative or progressive relaxation, improvement of breathing patterns, release of tension in the upper body, postural exercices, etc. The words she lives by : «Step on the mat, the magic will happen». .
Kate Mcmahon
Hello 😊 My interest in yoga began at a young age, watching and trying to copy my mum as she did her asana practice in our living room in Scotland. As I grew older yoga became a practice I would return to again and again wether to help me find some peace of mind or to help release tension from tired body and aching muscles. So when we decided to move to India I knew instantly that I wanted to learn how to teach and share this practice, which had been my companion through many stressful times in my life. I did my 200hr TTC at Trimurti in Goa as soon as I started to immerse myself into this beautiful way of life I knew I had made the right choice. I love helping people to find new strength, flexibility and peace in not just their bodies but also their minds. Namaste. 🙏🏼
Suraj Rana
Namaste dear practioners i am Suraj my yoga journey started a long time back when I was in school, academically i was not good enough as I had several disorder related to my mind and focus and I used to give up on studies And anything that comes my way i could not get that task done. Then my life took a turn i started practicing yoga and everything was changing from a weak, unfocussed boy to a self believer, i started focusing on studies and on everything that I used to do. Then my formal training started in 2015 with my guru from rishikesh and i am learning different style of yoga such as ashtanga yoga. And I believe yoga has everything to change any misery from human life.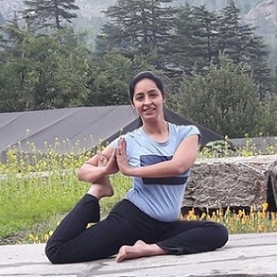 Neha Bajaj
yoga is the union of the supreme; for me yoga is what defines me. i was nomod in this world who just existed without any passion or interest. there wasn't much to my personality and i lived life like a rolling stone. got married, had kids and then; one day got introduced to the practice of yoga. i felt an instant connect with the practice. i enjoyed practicing yoga with the teacher who used to come home. suddenly, i had found my calling. By God's grace and my family's support,i went to take my practice forward and enrolled myself for diploma in yoga science from Morarji Desai National Institute of yoga and further went to do my Masters in yoga. despite being super busy, i ejoyed each day of my learning as it was deeply enriched with the philosphy of yoga. as they 'knowledge is of no value, until you put it into practice', hence i started teaching along with my practice. it's been 8 years since i embarked in the journey of discowering myself and each day i turn the next page of my life and stil find to learn. i teach Hatha Yoga and combine aspects of Pilates to make the class more comprhensive. Apart from becoming flexible, increasing stamina and energy levels, my will help students to connect with themselves,find their longing and leave the class ready to face the challenges of the day.
Neha Saighal
Yoga has been part of my life since i was eighteen. It was only in 2015 that i truly understood the meaning and purpose of yoga, when i started training with two teachers from the bihar schoclass="img-circle"ol of yoga in bangalore.Not only did they inspire me to take up the practice as a way of life., but they also taught me how to pass on my knowledge to others. i have been trained in Hatha Yoga and for me this is a practice of balance, harmony and unity between the body and mind, and confront and work on my weakness while embracing my strength.
Ruchi Thakkar
Namaste precious hearts!🙏🏻❤ How is your breath today? I am a spirited and passionate Hatha Yog Instructor (RYT200) committed to guide people in their journey of fitness and spiritual consciousness. I grew up in Haridwar, and that's where the seeds of my spiritual path were sown, which have now blossomed into trees of gifts and learnings that I take pleasure in sharing with the world!✨✨✨ I have truly enjoyed teaching in Haridwar, Delhi, Vadodara and Pune for 2.5yrs and apart from Asanas, I lovingly incorporate Mantra chanting, Pranayam, Mindfulness, Gratitude, Meditation and Sound Healing with Tibetan singing bowls in my sessions that allow a deeper mind-body-soul harmony. More than sculpting the body, Yog to me, is about turning the body into a beautiful vessel to receive the divine! What to expect from my class u ask? 🌸Here's what🌸: ~ smiles and laughter😂 ~ mindful breaths ~ self-love💓 ~ a connect with ur openness and intention👯‍♂ ~ an uplifted heart and soul🕺 ~ physical and mental strength and flexibility💪🏻 ~ feeling energized, grounded and expanded😇 Qualification: I have a B.Com and MBA (HR) degree👩🏻‍🎓 with 2yrs of corporate HR experience👩🏻‍💼as well. However, I've found my true calling in spreading love, wellness and peace through Yog!💓💓💓💓💓💓💓💓💓💓 Blessed may you ALWAYS be, for you always ARE!🕉🙏🏻😇 .
Sucheta
Self-practice of yoga since 7 years and teaching experience of 2 years of basic yoga as a volunteer. Undergone professional Teacher training program and certified as Hatha Yoga and Sri Sri Yoga teacher from QCI certified Training School. Knowledge and experience in teaching Power Yoga, Philosophy, Anatomy and Meditative Techniques.